New Philharmonia speakers co-designed by Amadeus and Jean Nouvel used at the recent 'Paris Edition' of the Red Bull Music Academy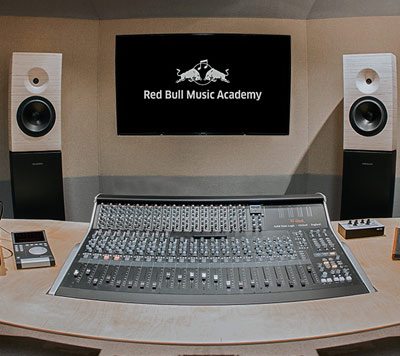 At the Red Bull Music Academy (RBMA) Studios which were specially built within La Gaîté-Lyrique in Paris, producers, and mixing and recording engineers got to hear a new level of sound and music with the install of a pair of the newly released Amadeus Philharmonia speakers. For the latest edition of the Red Bull Music Academy, Red Bull came back to Europe. Over 60 participants from 37 different countries were invited to Paris to work on music together in a collaborative environment in the state-of-the-art recording facilities within La Gaité-Lyrique – a digital arts and modern music centre opened by the City of Paris in December 2010. RBMA brought French music icons Jean-Michel Jarre, Laurent Garnier, Nicolas Godin and Marc Cerrone together with the participants.
Read More »
Live TV singing competition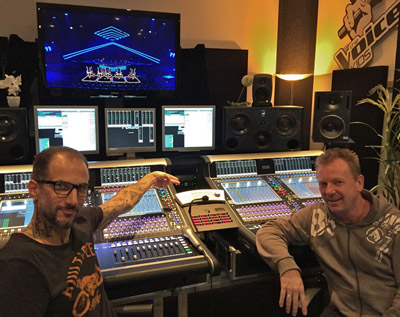 relies on detailed monitoring control from Dangerous Music Convert-2 DAC and Monitor ST, Engineer Toni Kern says "It's great, I love it!"
When the pressures of a live TV show weigh in on the audio mix engineers responsible for adding stunning sound to make the pictures come alive for eager audiences, the right monitoring gear is essential, and it's why Toni Kern, at The Voice of Germany, chose both the Dangerous Monitor ST monitor controller and recently added the new Dangerous Convert-2 DAC. "The Convert-2 is really easy to use, it sounds really great-and it sounds natural. And it's definitely much more accurate than the setup we had before which was only analog monitoring. Now we listen to the exact same digital signal that we send to the live broadcast, and we are hearing it through the Convert-2. We feel very confident about what we are sending to the broadcasters because of this, and the mix is better because of it too." The German show, similar to the popular US version, The Voice, has featured live performances by top artists such as Cold Play, Robin Schulz, Elle King, James Morrison, Ellie Goulding, and Jess Glynne.
Read More »