Over fifty Amadeus speakers installed featuring '3D Sound' control, nearly seven hundred actors and twenty giant 30-foot soft LED screens create a re-enactment of the 'Xi'an Incident' commemorating the event's 80th anniversary.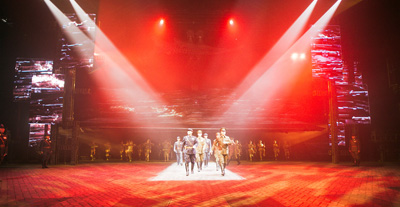 Amadeus, based in France, one of the premiere manufacturers of high-end sound reinforcement systems and custom studio speakers, has announced a 50-speaker install with '3D Sound' control. The sound system compliments twenty 30-foot giant 'soft LED' screens and performances of 700 actors in China's first live event dramatizing the historical 1938 'Xi'an Incident' – which is credited to have created modern China. The State-run theater is located in the exact location where the 'Xi'an Incident' happened. Amadeus worked with its distributor, Guangzhou Sign King ET Co., Ltd., Swiss-based company Sonic Emotion, and British manufacturer of digital mixing consoles DiGiCo to design and install the sound setup within the massive new building.
The 'Xi'an Incident' live show relates to "…the kidnapping of the Chinese leader Chiang Kai-shek while visiting disaffected Manchurian troops at Xi'an. Chiang was captured by conspirators headed by Zhang Xueliang, who attempted to force him to give up his campaign against the communists and lead a national war against the Japanese, who had occupied Manchuria in 1931. After Chiang had refused to accede to their demands, the communists, headed by Zhou Enlai, also became involved in the negotiations and eventually Chiang was released, having promised to take a more active role against the Japanese and to allow local autonomy to the communists. Zhang Xueliang was imprisoned by Chiang, but the incident led to limited cooperation between the communists and the Kuomintang against the Japanese," as described by the Oxford University Press, a department of the University of Oxford.
Wymen Wong, of Guangzhou Sign King ET Co., Ltd., stated, "Amadeus delivered the best solutions, both in terms of products and services, matching the design constraints and goals that the Show Director' expectations. The audience also expects a lot from a sound system and AVLS combined everything as a whole."
Gaetan Byk, Marketing Manager at Amadeus states "The setup's complexity, as well as its artistic dimension, implied dual implications for Amadeus, both material and immaterial, offering a savoir-faire, an expertise, more than just offering well-developed speakers. Amadeus' legitimacy stems from the prestigious legacy gained in the professional audio world over the last 25 years. Our long list of users includes many of the greatest sound engineers, composers, mixers and producers in France."
"Our great relationships with major French theatrical, musical and cultural institutions, and with professionals with talents, sensitivities and careers – both original and complementary – helped us to achieve state-of-the-art system implementation in this amazing performance space," adds Byk.
"We solicited the services of the prestigious Théâtre National de Chaillot (Chaillot National Theater) which acquired a similar immersive sound system last year. We were able to work with Marc Piera, the Theater's Sound Department Manager. Marc Piera is also a composer, musician and sound engineer, who began working in the entertainment industry in 1982, in ballet, theatre, music, and on various other live performance events," says Byk.
Piera has completed more than 300 original projects, mainly as a music composer or sound environment designer. Since 2006, he has continued to complete consulting projects involving electro-acoustic multi-diffusion for prestigious French institutions such as Bibliotheque Nationale de France (National Library of France), National Museum of Natural History, Theatres de la Cartoucherie, and Theatre de la Cite Internationale, to name a only a few.
Piera joined the Amadeus team on the 'Xi'an Incident' project for a few weeks as a system engineer in charge of the on-site speaker tuning, as well as a mixing engineer, and a spatialization technologist – each one a very important component of the projects' success.
Marc Piera explains his ideas about working with immersive sound and spatialization, "I believe since my beginnings working in live theater, that inside each sound technician is an electro-acoustic 'creator' able to sublimate, reinterpret or magnify a musical project. These new techniques of diffusion finally offer us the choice, that of building our space, with its depths, its images and its relationship with the scenic elements of the stage. These new sonic techniques allow us to be architects of the sound, sound creators, finally freed from the dictates imposed by the 'acceptable' or usual physical positions of the loudspeakers in a theater."
Audio equipment installed in the Xi'an Theater building:
Amadeus speakers:
UDX 8 compact 2-way passive loudspeaker (8" LF + 1.7" HF): 8-units
UDX 15 high-efficiency 2-way passive loudspeaker (15" LF + 2" HF): 40-units
ML 28 high -efficiency Subwoofer (2 x 18" LF): 6-units
Lab.gruppen amplifiers:
C68:4: 12-unit
FP14000: 3-unit
Sonic Emotion software:
WAVE II 3D wave field synthesis rendering processor: 1-unit
DiGiCo console:
DiGiCo S21 digital mixing console: 1-unit
About Amadeus
Amadeus develops, manufactures and sells a wide range of high-end sound reinforcement loudspeakers, studio monitors and various signal processing interfaces that combine its own custom innovative technology with stylish design, for the professional audio industry. Created in 1992 from the collaboration between the French designer Bernard Byk and the scientist and musician Michel Deluc, the Amadeus brand has grown to become a leading supplier of high-end audio solutions and services for theaters, opera houses, museums, recording studios, research centers and touring concert sound rental operations. All development and product manufacturing is centralized in Amadeus headquarters in France, with field offices and authorized distributors located in Europe, Asia and UAE.
For more information, please contact Amadeus: info@amadeusaudio.fr, or visit: amadeus-audio.com/en/

Amadeus and UDX 8, UDX 15, ML 28 are registered trademarks of Amadeus France. All rights reserved. All other registered trademarks are property of their respective owners.