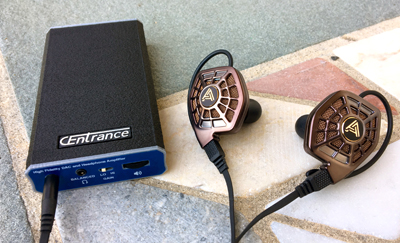 CEntrance, a leader in Digital Audio, announced immediate availability of BlueDAC, it's newest portable D/A converter and headphone amplifier. BlueDAC combines the best of CEntrance portable digital technologies to date, including a long-life rechargeable battery and a 24-bit/384kHz USB interface, and adds a brand new, custom, high fidelity Bluetooth radio receiver. Combining the wired and wireless inputs within the same product, BlueDAC becomes the perfect listening device for the modern audiophile. When used wirelessly, it delivers excellent sound quality over balanced headphones. When used as a portable or desktop USB DAC, it can access the full potential of modern, high-resolution content, offering 24-bit/384kHz fidelity and DSD capability. BlueDAC's wireless connection pairs well with phones and tablets running iOS and Android. BlueDAC has been also successfully tested with a number of Digital Audio Players that offer a Bluetooth output. This wide range of connectivity options makes BlueDAC highly versatile and convenient at home or on the go.
Featuring a standard 3.5mm headphone jack and a special, 2.5mm balanced headphone jack, BlueDAC lets the discriminating audiophile take full advantage of their existing headphones and cabling connections. BlueDAC offers our loudest headphone signal yet, with lowest noise and distortion, especially in the balanced configuration.
BlueDAC features a Digital Volume Control knob, which ensures perfect L/R balance across the adjustment range. An output gain switch is also provided. In the High GAIN setting, BlueDAC is best used with overhead headphones. In the Low GAIN setting, the product is compatible with sensitive IEMs, including balanced armature models.
BlueDAC does a great job with battery management, too. When used in Bluetooth mode, it powers down its USB circuitry, achieving unprecedented 20+ hours of playtime. In USB mode, the battery will last for at least 8 hours. The product was successfully funded via a crowd funding campaign, which allowed the user community to contribute suggestions for product design and important feature refinement. BlueDAC comes on the heels of CEntrance's successful "DACport HD" portable DAC and headphone amp for the audiophile listening community, which got rave reviews and was included in the Stereophile list of recommended components.
Michael Goodman, Managing Director of CEntrance, stated, "Our handheld playback products unlock the power of the phone as a music player. Your phone already has a lot of music, but sadly, it just lost the headphone jack. BlueDAC solves this problem and offers you a high fidelity wireless link for your favorite wired headphones. This level of convenience and audio quality was previously unavailable."
The attractive, handheld, battery-powered device is made in US from tough, bio-degradable plastic. BlueDAC is available now and will be priced at $399-US
About CEntrance, Inc. Founded in 2000, CEntrance develops innovative audio products and licenses technology to industry leading brands, such as McIntosh, Playback Designs, Bel Canto, Benchmark, PS Audio, and Lavry. The company's portable recording and playback solutions have earned rave reviews, industry awards and enthusiastic endorsements from artists such as Harry Shearer, Nathan East and Will Lee, and mastering engineers Bob Katz, Brian Gardner, Tom Jung and sound designer Frank Serafine, among others.
CEntrance is expanding its dealer network. To inquire, please call +1 (847) 581-0500 or e-mail sales@centrance.com. Visit: www.centrance.com
All Trademarks are the property of their respective holders. MicPort(tm), AxePort(tm), DACport(tm), DACmini(tm), MasterClass(tm), Audiophile Desktop(tm), HiFi-M8(tm), MixerFace(tm), HiFi-Skyn(tm), DACportable(tm), BlueDAC(tm) and other trademarks are trademarks or registered trademarks of CEntrance, Inc. All Rights Reserved. Apple iPhone(r), iPad(r), and iPod(r) are registered trademarks of Apple, Inc.