Amadeus recently upgraded its original speaker install at the famous Paris Gaîté Lyrique Theater to include the newly released DIVA M2 (M-Squared) speakers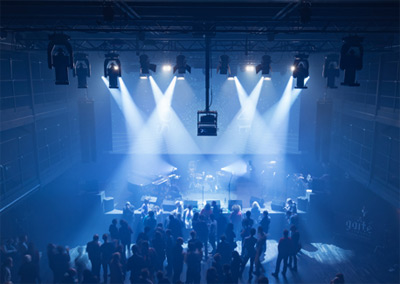 Amadeus, based in France, one of the premiere manufacturers of high-end sound reinforcement systems and custom studio speakers, has announced the install of the company's newest array speaker, the DIVA M2, at the prestigious Paris Gaîté Lyrique Theater digital arts and modern music center. Initially equipped by Amadeus for the theater's 2011 re-opening with the company's EtherSound-enabled speakers, DIVA XS and XL Series, among other Amadeus models, La Gaîté Lyrique decided to upgrade its Front of House speaker system in the facility's Large Hall and naturally has chosen the newest Amadeus DIVA M² array speakers (pronounced 'M Squared'). Along with the fourteen DIVA M² loudspeakers, Amadeus has also installed four new DIVA M² SUB bass complements, paired with Lab.gruppen amplifiers and LAKE controllers.
The Large Hall performance space at the theater features a 750-person standing capacity (with over 300 seats), an adjustable stage with multiple heights, configurations and surfaces, and 46 independent visual screens spread out over the four sides of the room to create a total immersion experience for the audience. The Large Hall includes telescopic tiers of bleachers for seating, which can be folded away sideways. Projection screens can be mounted at various levels on any of the four walls, and a large variety of audience and stage setups can be accommodated.
"The growing demand from artists, as well as producers for immersive video setups, brought us to look for a more discreet sound system," states Jean-Marc Harel, Sound Department Manager at La Gaîté Lyrique. "We wanted speakers placed in a configuration minimizing the projected shadows on the visual screens, but without compromising on the power, on the sound pressure level and the clarity and quality of the sound itself. This is why we became interested in the newest Amadeus DIVA M2. Both the speaker's size and harmonious visual aesthetic perfectly matched our equipment needs."
Harel adds, "The power and size ratio of the new DIVA M2 array speakers compared to the older version is really impressive – even compared to the Amadeus DIVA XL that we used during the past few years. Its new built-in technologies, including the new proprietary waveguide, paired with its coaxial drivers and linear-phase crossover filters – featuring a steep 96 dB per octave cutoff slope – help to offer a total linearity throughout the theater's listening area."
"Thanks to these new capabilities, we have been able to rethink the layout of the main FOH clusters by adding two Amadeus DIVA M² SUB bass complements in line with the main speakers which are hung on the same bumper. The new subwoofers can be adjusted from 0-to-10° which really helps control the low frequencies beam," explains Harel.
Digging deeper into the technical benefits of the speakers and the sound system design, Pierre Le Cardinal, FOH Mixing Engineer at La Gaîté Lyrique, adds, "The ease of adjustment of the new variable curvature rigging system, which is based on a 'logarithmic structure' of inter-element angles, along with its reduced weight, bring a real added value allowing us to quickly implement different configurations for each audience – whether they are standing, sitting, using the telescopic bleachers opened or closed – within the Large Hall concert area. This new speaker installation perfectly meets our integration constraints for the concert hall, as well as our ambition for a qualitative evolution of the sound – thanks to a higher sound pressure level, more dynamic response, and better coverage definition across the entire audience."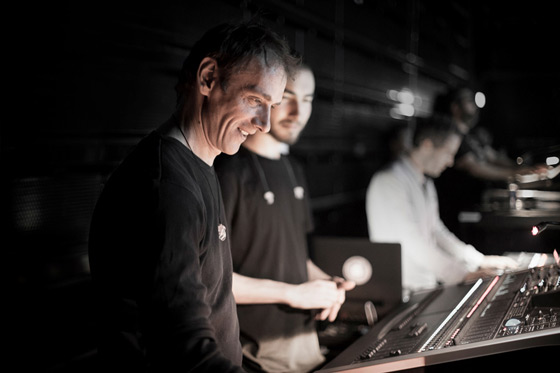 Jean-Marc Harel, Sound Department Manager at La Gaîté Lyrique
The Gaîté Lyrique is entering a new era with this technological upgrade. The City of Paris has bestowed the management of this exclusive showcase for digital arts on SEGL. The new management of the Gaîté Lyrique initiated deep changes in equipment and programming. "The Amadeus DIVA M² speakers allow us to confidently offer excellent sound reinforcement for every international artist who performs at the theater and to satisfy the most demanding productions in various music genres including rap, pop or EDM, which are some of the centerpiece styles of our programming," concludes Harel.
In 1862, the same year as Paris' renowned Théâtre de la Ville and Théâtre du Châtelet were debuted to the public, the Théâtre de la Gaîté Lyrique was also inaugurated. Nearly 150 years later, this important venue of Parisian culture was brought back to life after being closed to the public for over twenty years. In 2011, la Gaîté Lyrique returned to the forefront of modern theater presentations under an initiative by Bertrand Delanoë, Mayor of Paris, and Christophe Girard, Deputy Mayor in Charge of Cultural Affairs, who were motivated by the desire to bring this leading venue of Parisian culture back to life. Within the modern theater building there are now 5 levels open to the public, and 2 private levels that host workspaces reserved for the artists. In total, the theater has a capacity for 1,400 people.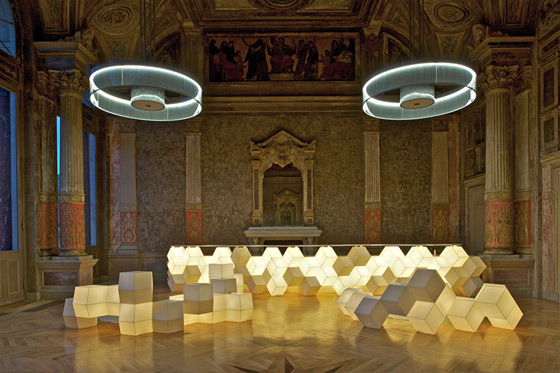 The historial foyer is lit by four grand chandeliers and features a bar-cafe. (Photo © Philippe Ruault)
"Since its reopening in 2011, the Gaîté Lyrique has stood out by its commitment towards creation and innovation, establishing digital culture at the center of this Parisian undertaking, while at the same time meeting with a high level of acceptance from the public," relayed Bruno Julliard, First Deputy Mayor of Paris.
"With the deep conviction that artists should play a part in the emergence of a more fraternal and collaborative society, the Gaîté Lyrique will welcome all those who share this ambition, at the crossroads of artistic creation and scientific, technological and social innovation," added Mr. Julliard. "The Gaîté Lyrique is an extraordinary venue for the creation and the promotion of today's music, whether amplified, DIY, experimental, immersive or international. It is a stepping stone of choice for voices whispered, raging, low-tech, or carried by the most advanced technologies in the field of sound and image."
Audio Equipment Installed in the Paris Gaité Lyrique Theater:
• (14) Amadeus DIVA M² high-efficiency array loudspeakers
• (4) DIVA M² SUB high-efficiency LF extension loudspeakers
• (1) LAKE LM 26 digital audio loudspeaker crossover/processors
• (4) Lab.gruppen C88 4-channel installation amplifiers
For more information on the new Amadeus DIVA M2 speakers, visit: http://amadeusaudio.fr/diva-m-squared/ and scroll down to view the details.
To find our more about the Gaité Lyrique Theater please visit: https://gaite-lyrique.net/
About Amadeus
Amadeus develops, manufactures and sells a wide range of high-end sound reinforcement loudspeakers, studio monitors and various signal processing interfaces that combine its own custom innovative technology with stylish design, for the professional audio industry. Created in 1992 from the collaboration between the French designer Bernard Byk and the scientist and musician Michel Deluc, the Amadeus brand has grown to become a leading supplier of high-end audio solutions and services for theaters, opera houses, museums, recording studios, research centers and touring concert sound rental operations. All development and product manufacturing is centralized in Amadeus headquarters in France, with field offices and authorized distributors located in Europe, Asia and UAE.
For more information, please contact Amadeus: info@amadeusaudio.fr, or visit: amadeus-audio.com
Amadeus and DIVA M2 are registered trademarks of Amadeus France. All rights reserved. All other registered trademarks are property of their respective owners.