New model of the acclaimed mobile recording interface is now shipping worldwide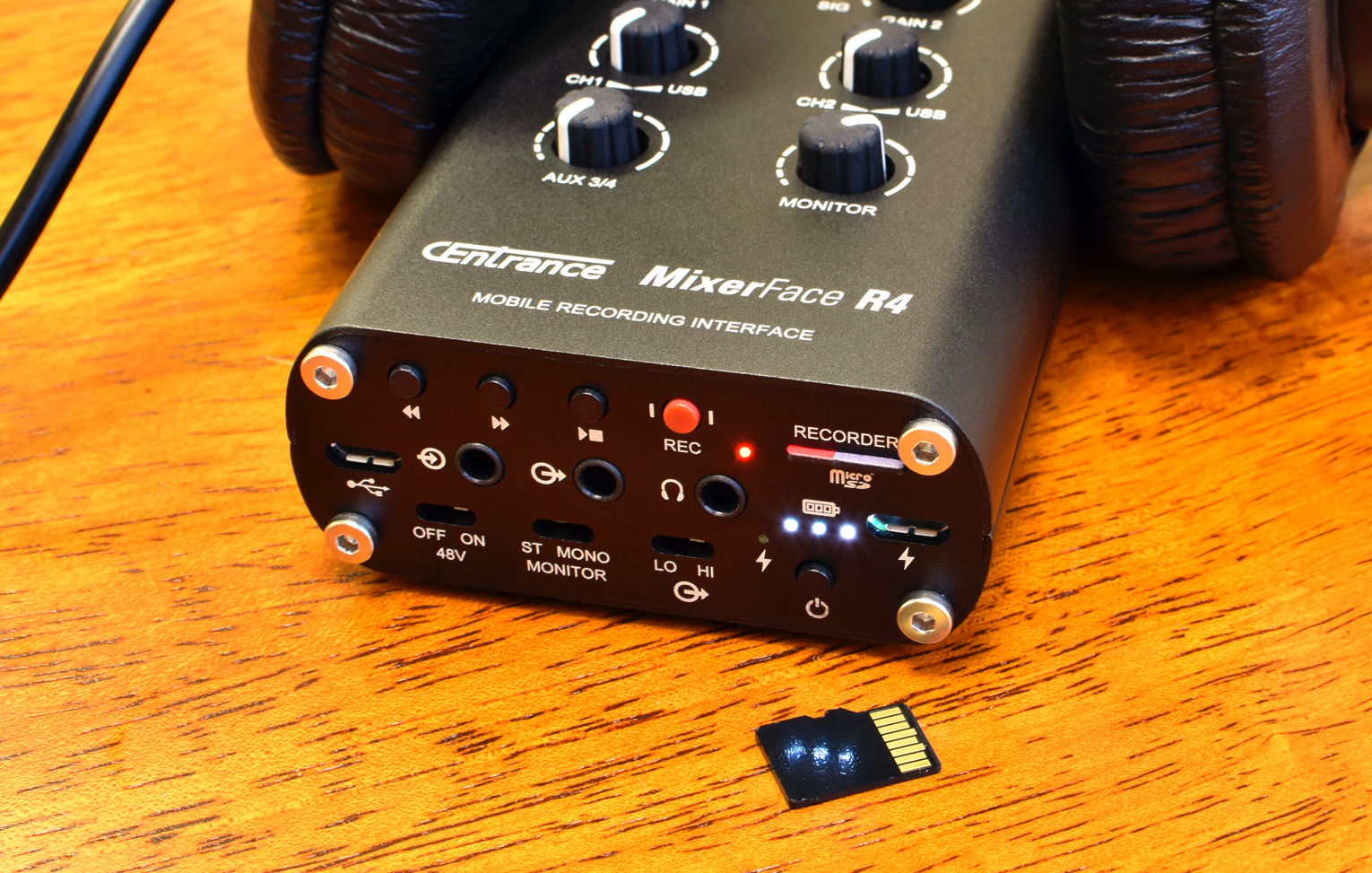 CEntrance has announced the launch of MixerFace R4R, a new version of the acclaimed mobile recording interface that now comes with a built-in audio recorder. The new model retains all the features of its parent MixerFace R4, (released in July), but adds a built-in, "one-button record," stereo micro-SD card recorder for added in-the-field flexibility and extra recording redundancy.
The original MixerFace R4 turns a smartphone into a portable DAW, ideal for capturing musical ideas, interviews, or live events at a remote location. Invaluable for podcasting, video blogging, newsgathering, live streaming, songwriting, and other mobile recording uses, the passport-sized mobile recording interface makes it easy to record professional-quality audio anywhere. An internal, long-lasting rechargeable battery sets the CEntrance product apart from other portable audio interfaces and makes it the ideal companion for the road. Two built-in high-quality mic preamps with true 48V phantom power let users choose their favorite microphones for recording. The Neutrik Combo input jacks with the Hi-Z feature allow plugging in electric guitars and basses, which makes MixerFace R4 an ideal practice tool, idea pad, or on-the-gig mixer.
The built-in SD card recorder in the R4R enhances those applications as it captures audio immediately, without waiting for the phone. An extra benefit of the built-in SD Card recorder is the ability to stream audio via the phone, while recording a local copy to the SD card, a level of flexibility unmatched by existing field recorders.
The tripod-mountable device will be also appealing to video bloggers and DSLR videographers. Paired with a smartphone or a video camera, the product improves audio quality over typical on-camera audio, dramatically improving production values of semi-professional video shoots. R4R will also add redundancy to live streaming events. Allowing live music sessions to be streamed online via the smartphone, R4R can simultaneously record a safety copy to the internal micro-SD card recorder, creating a professional backup solution. The recorder is perfect for field recording, concert taping, band rehearsals, live performance, capturing audio from the FOH position, and much more.
"With MixerFace we have made professional location recording accessible anywhere. These handheld, travel-friendly units fit in a gig bag and sound great, lasting for a whole session on a full charge," said Michael Goodman, CEntrance CEO. "The internal world-class A/D converters were borrowed from our award-winning Hi-Fi products. They are protected by the lightweight, aircraft aluminum chassis and deliver professional sound quality in a small package. This portable marvel will liberate recording from the confines of the studio and let you find inspiration anywhere."
The new MixerFace R4R has an MSRP of $449.99 USD (SD card not included) and is now shipping to US dealers and worldwide distributors. CEntrance is also shipping the original "MixerFace R4" model (without the SD-Card recorder) with MSRP of $349.99 USD.
CEntrance is a leading manufacturer of professional-grade recording devices and award-winning personal audio solutions. MixerFace R4 builds on the legacy of the USB-powered MicPort Pro, and with the added built-in battery technology it takes the Company's recording product line to a new level of portability and power. MixerFace R4 is compatible with most smart phones, tablets and laptops/desktops, including Android and Apple iOS, and macOS and Windows-based computers. About the footprint of a passport, the four-input mobile recording interface is designed to simplify making high-quality audio recordings on the go and share digital projects online, all while delivering professional results.
The new MixerFace R4R SD-recorder model features:
•  R4R retains all the features of the original MixerFace R4 and adds a one-touch micro-SD card recorder
•  R4R simultaneously records to SD-card and to a digital device (smartphone, tablet, laptop, etc.)
•  For extra redundancy with video, feed the analog output to a DSLR for simultaneous audio recordings
•  The smartphone, micro-SD card and line outputs are all fed the same stereo mix for safety recording
•  Internal rechargeable battery is designed to last an entire gig, charges from any USB charger
•  Dual Jasmine Mic Preamps(tm) with true 48V phantom power deliver boutique audio quality
•  Two Neutrik(tm) combo XLR jacks to record from Mic, Line or Instrument sources
•  Dual Hi-Z inputs place a "direct box" inside MixerFace for recording electric guitar or bass
•  High Pass Filters to cut wind noise during location recording
•  Adjustable Zero Latency Monitor control for dialing in the perfect headphone mix
•  Stereo AUX input to mix in a 2-channel source for practice or live performance
•  AmpExtreme(tm) headphone amp for extra loudness and clarity, with no distortion
•  Balanced and un-balanced outputs for flexible speaker monitoring
About CEntrance
For nearly two decades, the world's most iconic brands in Pro Audio and Consumer Electronics turned to CEntrance for its digital audio technology. CEntrance know-how powers award-winning guitar pedals, recording interfaces, smart speakers, and DACs from an A-Z list of top brands, such as Alesis, Harman, McIntosh, and Zoom. Today, with its passion for sound rooted in pro audio, CEntrance delights customers worldwide with its own line of innovative, award-winning products for audio recording and playback. Famous recording artists, producers, voice-over professionals, and sound designers endorse CEntrance audio solutions. Visit us at http://www.centrance.com
MixerFace(tm), Mobile Recording Interface(tm), Jasmine Mic Pre(tm), BlueDAC(tm) are trademarks of CEntrance.
All Trademarks are the property of their respective holders. All Rights Reserved.