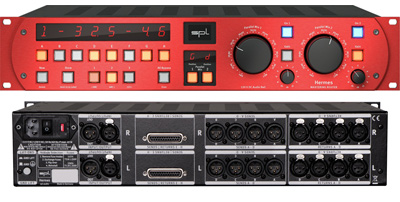 SPL of Germany has announced the release of Hermes, a mastering insert router with dual parallel mix channels. Hermes is SPL's latest addition to their expanding range of unique mastering devices. As a mastering router the new product provides connections of up to 8 dual-channel processors. An audio signal can be routed through these processors in any order. User definable presets allow the comparison of complex processing chains with just a flip of a button. In addition, Hermes has two integrated parallel mix stages that work with any of the eight processors allowing for example, the comparison of two compressors with different parallel mix settings. The parallel mix stages are stored with the processing chains. Hermes is available now from dealers in the US and Canada through its distributor Audio Plus Services.
"Hermes really completes our core offering for a superior analog mastering chain," says Hermann Gier, Managing Director at SPL. "Along with the DMC mastering console, MC16 multichannel monitor controller, our mastering EQs, PASSEQ and PQ, the Iron compressor, and the Phonitor headphone amp-SPL has a highly integrated system for the premier mastering studio, all running on our 120V technology."
Hermes features SPL's unique 120V audio rail technology, which offers increased headroom of up to +34dB and a dynamic range of over 141dB. All switching in the Hermes is performed with gold-plated and gas-capsuled relays.
Hermes speeds up the workflow in mastering in ways that were previously extremely difficult, and makes the most out of a studio's existing mastering gear. Repatching to hear a simple change is a thing of the past with Hermes – the user can change processor sequences on the fly, store them, and compare settings instantly. All with real switches, relays and no software application.
Hermes Mastering Insert Router Highlights:
•  Mastering router for 8 dual-channel processors
•  Create, store and compare complex processing chains
•  Two Parallel Mix stages
•  Fast comparison of up to 4 processing chains
•  Fully passive routing using gold-plated and gas-capsuled relays
•  Unique SPL 120V Technology
SPL Hermes webpage: https://spl.audio/mastering/hermes/?lang=en
The new Hermes insert router and parallel mixer is available now from dealers in the US and Canada, the retail street price is $6,499.00 USD.
Watch the SPL Mastering Devices Overview video at: https://youtu.be/agJl2GGkkdM
To find out more about SPL's unique 120V DC Audio Rail Technology, visit SPL's web pages at: https://spl.audio/120v-technologie/?lang=en
About Audio Plus Services
Established in 1991, Audio Plus Services is a leading North American importer and distributor of premium consumer and professional electronics brands including Focal Professional, SPL of Germany, Lauten Audio, Vovox, IsoAcoustics, Zaor Furniture, Cymatic Audio, Vicoustic, Pop Audio and EarSonics. Based in Montreal with U.S. shipping facilities in Champlain, NY, Audio Plus has sales personnel located throughout the United States to professionally service their active roster of more than 350 specialty A/V and Pro Audio dealers. Audio Plus specializes in products and services for the professional audio and performing musician markets, as well as the home theater and custom integration (CI) market – both residential and commercial – for North America. For more information about Audio Plus Services visit their website at http://www.audioplusservices.com/ or call (800) 663-9352.
All trademarks are the property of their respective holders.