Focal's 40th Anniversary celebration continues: For its special anniversary, Focal reveals Solo6 Be 40th powered studio monitors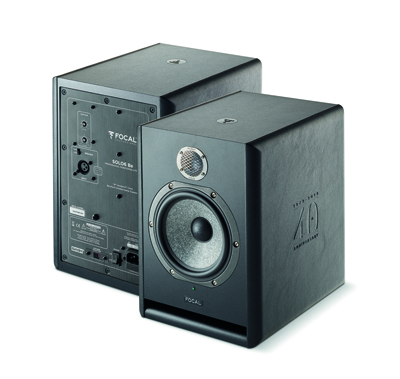 Focal, the French high fidelity manufacturing expert, celebrates its 40th anniversary in 2019. To commemorate 40 years of passion and innovation dedicated to music, Focal has developed some exceptional products across its various collections. After 'Home and Car Audio' universes, professional audio is now honored: the brand presents Solo6 Be 40th, its iconic studio monitor. Solo6 Be has been dressed up with a new black finish and stamped as a special edition.
AN ELEGANT & TIMELESS LOOK: Solo6 Be is a 2-way monitor which, from the moment it was launched, surprised users with its size and extended frequency response in the bass ratio, its woofer's combination of neutrality in the midrange, its fullness in the low-mid, and its bass control. It provides transparency and an unmatched degree of definition and precision of the stereo image for this price category: that is why Focal chose to showcase this model to celebrate its anniversary. How? By dressing it in a black leather-effect coating to give it a discreet, distinguished and timeless look. Stamped as a '40 year' special edition, this monitor embodies the passion that the brand shares with music creators.
FOCAL PERFORMANCE: Behind this new 'finish' lies Focal technology: a Beryllium inverted dome tweeter, capable of reproducing high frequencies with an unrivaled degree of purity and transparency, and a bass/mid driver composed of a 'W' composite sandwich cone. This cone optimizes the response from as early as the design phase and gives the loudspeaker incredible sound neutrality. Finally, the bass/mid power stage in Solo6 Be 40th is fine-tuned using BASH® technology, which delivers class AB sound quality combined with the efficiency of class D amplifiers.
"LISTEN TO YOUR MUSIC, NOT YOUR SPEAKERS": These few words embody the philosophy of the professional audio of Focal which was created in 2002. Since then, the French manufacturer brings its entire expertise to create loudspeakers and speaker drivers dedicated to sound engineers, musicians, and producers. Focal manufactures its speaker drivers in its own French workshops: this is the best way to have complete control over the design and quality control processes in order to guarantee high-quality products and a pure and precise sound restitution.
Find out more information at: https://www.focal.com/en/solo6-be-40th
About Focal Naim America
Focal Naim America (formerly Audio Plus Services) is a leading North American importer and distributor of premium consumer and professional electronics brands including Focal Professional, SPL of Germany, Lauten Audio, IsoAcoustics, Zaor, Vicoustic, and EarSonics. Based in Montreal with U.S. shipping facilities in Champlain, NY, the company has sales personnel located throughout the United States and Canada to professionally service their active roster of more than 350 specialty A/V and Pro Audio dealers. The company specializes in products and services for the professional audio and performing musician markets, as well as the home theater and custom integration (CI) market – both residential and commercial – for North America.
For more information about Focal Naim America visit their website at https://www.focalnaimamerica.com or call (800) 663-9352.
All trademarks are the property of their respective holders.