The innovative space with the iconic Champagne House was conceived by the international architecture and interior design agency AW2, in collaboration with Amadeus, designer and manufacturer of high-end electroacoustic systems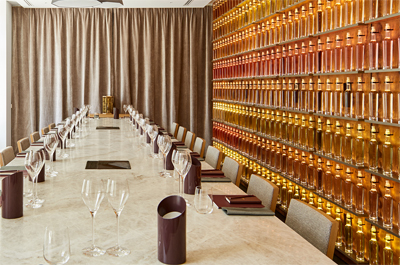 The House of Krug has taken another step in creating new and immersive tasting experiences for its guests by collaborating with France's IRCAM Institute, Amadeus, and the renowned international architecture and interior design agency AW2 to create a new 'Audio Tasting Room' at the Krug Family House in Reims, France.
A CHALLENGE FROM THE HOUSE OF KRUG: Since 1843, the House of Krug has explored new ways to enrich the tasting experience. While Music has always been at its heart, the current endeavor was spurred by recent research further affirming the impact of hearing on taste, including the work carried out by Charles Spence and Janice Qian Wang of Oxford University's Cross-modal Research Laboratory. This led the House to push the boundaries of immersive tastings through its collaboration with the IRCAM.
Read More »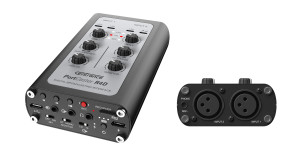 Portable broadcast device makes call-in "talk radio" shows a breeze
CEntrance today announced the launch of PortCaster™, a portable live-streaming and recording tool. The new handheld device fills an important gap for podcasters and radio program hosts who need to add music, effects, and either a local or a remote call-in guest to their "talk radio"-style show. Based on the MixerFace, the company's acclaimed mobile recording interface, the new product is designed for recording or live-streaming a broadcast to Facebook, Instagram, YouTube, and other platforms.
Read More »

New 'Phonitor se' headphone amp is now shipping in two models, one with an SPL DAC
SPL of Germany has announced the new 'Phonitor se' headphone amp is now shipping in two models, one with an SPL DAC. The new model is an entry into the SPL "Professional Fidelity" Phonitor world. The SPL line of products is distributed by Focal-Naim America in the US and Canada.
The Phonitor se features the same audio signal amplification as its bigger brothers Phonitor x and Phonitor xe and therefore – thanks to SPL's VOLTAiR technology – offers the same sound experience. Of course, the high-quality look and feel is maintained. Playback of analog signals are via an unbalanced stereo RCA input and for digital players, via the optional DAC768xs.
Read More »