The innovative space with the iconic Champagne House was conceived by the international architecture and interior design agency AW2, in collaboration with Amadeus, designer and manufacturer of high-end electroacoustic systems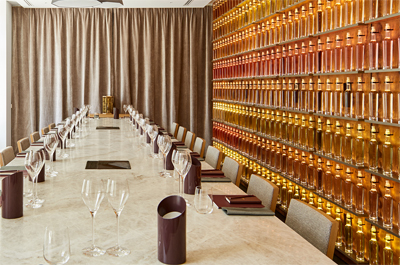 The House of Krug has taken another step in creating new and immersive tasting experiences for its guests by collaborating with France's IRCAM Institute, Amadeus, and the renowned international architecture and interior design agency AW2 to create a new 'Audio Tasting Room' at the Krug Family House in Reims, France.
A CHALLENGE FROM THE HOUSE OF KRUG: Since 1843, the House of Krug has explored new ways to enrich the tasting experience. While Music has always been at its heart, the current endeavor was spurred by recent research further affirming the impact of hearing on taste, including the work carried out by Charles Spence and Janice Qian Wang of Oxford University's Cross-modal Research Laboratory. This led the House to push the boundaries of immersive tastings through its collaboration with the IRCAM.
To envelop guests into the Maison expertise in the art of blending, the Krug team – including former Krug Cellar Master and Deputy Director Éric Lebel and Alice Tétienne, a member of the winemaking team – challenged the IRCAM researchers to use the powers of sound to convey the unique profiles of the different base wines that compose Krug Grande Cuvée. It is through daily tastings of these still wines that the Krug Tasting Committee can make decisions about the final blend but this process does not lend itself to a tasting with guests as it can be quite technical.
The question was: How can one translate the base wine tasting experience in a universal language?
AN APPROACH BY SOUND DESIGN: At the STMS (Sciences et Technologies de la Musique et du Son), a laboratory founded in 1995 and hosted at the IRCAM campus in Paris, the association of CNRS, Sorbonne Université, Ministère de la Culture, and Institut de Recherche et Coordination Acoustique/Musique – Including teams from the Perception and Sound Design Department, as well as Acoustic and Cognitive Spaces Dept – worked together on the project to bring sound into the process of tasting Krug's base wines.
After a brainstorming session between Krug's craftsmen and the sound experts, they suggested linking sound properties to correlating tasting notes, thus creating a sonic environment able to offer a multisensory experience in the new Family House in Reims. This approach allowed them to translate each unique wine into a unique soundscape based on its flavor profile.
Composer Roque Rivas was approached to create the ten soundscapes, representing ten sub-regions within Champagne that are represented in the final blend of Krug Grande Cuvée. The soundscapes reveal the most striking attributes of the wines, enabling participants to "taste" the sound.
AN ASSOCIATION OF COMPLEMENTARY EXPERTISE: A tailor-made immersive sound system was designed by IRCAM, in collaboration with the Amadeus company – French manufacturer of high-end sound reinforcement loudspeakers, studio monitors, and signal processing interfaces – to create a more fluid listening experience and to get the tasting and sound experiences to blend into a single experience. To design and realize this immersive tasting salon, IRCAM also collaborated with international architecture and interior agency AW². By joining forces, they were able to create a unique and innovative sound space.
A one-of-a-kind sound system was designed specifically for the room, made of two electroacoustic setups. The first is frontal and seamlessly integrated into the 'Wall of 400 Wines' that depicts the different wines auditioned each year to create a new Édition of Krug Grande Cuvée. It has 18 Amadeus PMX 4 coaxial speakers, spread regularly on three levels, along a 9-meter width. The second system, more immersive, is situated above the guests. It is composed of 8 speakers integrated into the ceiling plus 6 speakers developed specifically for Krug and surface-mounted on the walls, supplemented with two low-frequency speakers. Each of the 34 speakers in the system is amplified and can be controlled and processed independently.
Sound contents for this unique system are created and played with SPAT, IRCAM's sound spatialization software. The frontal matrix included in the '400 Wines' front wall offers creators and sound designers new spatialization possibilities vertically and allows them to create very 'graphical' sound scenes. Associated with the immersive system, it gives the sound system a rich vocabulary to create a parallel soundscape for the tasting experience.
THE COR-TEN steel speakers: Concurrently, an electro-acoustic development project was initiated, matching the technical needs of IRCAM and the aesthetic demands of the House of Krug. It resulted in a unique speaker system, produced in six pieces specifically designed by AW2 and engineered by Amadeus. These unique speakers are made of COR-TEN steel, cut and then laser welded. Their rust finish results from the rapid oxidation of the material, stopped by a chemical process, then 'fixed' with a transparent matt varnish.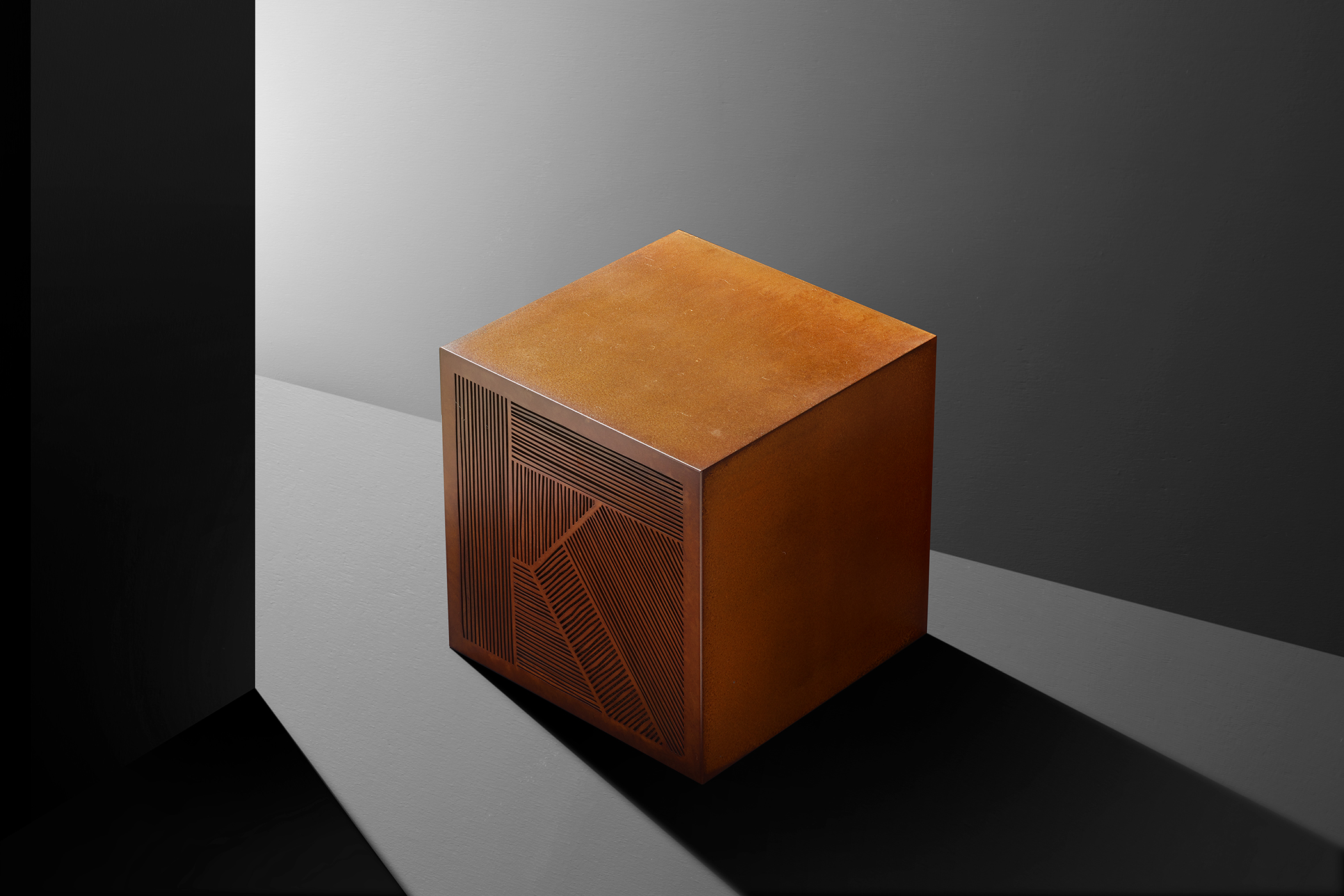 As a genuine aesthetical, technical, and acoustical challenge, the development of these speakers was managed by designer Stéphanie Ledoux, associated with AW2 cabinet and Michel Deluc, Amadeus' R&D Manager. Each bespoke speaker hosts a long-excursion coaxial transducer with a frequency response down to 60 Hz. Each transducer is hidden behind a laser-machined front panel with a 'K' logo, symbol of the Maison Krug.
Two speakers dedicated to low frequencies were developed as well, they are the Amadeus ML 12 K. They are equipped with a 12-inch (30cm) boomer drivers hidden behind a 'grid' directly machined in wood, with vertical thin lines or 'blades', alternating matter and empty space.
To find out more about the Wall of 400 Wines and this immersive tasting experience, visit the Krug website: https://www.krug.com/the-house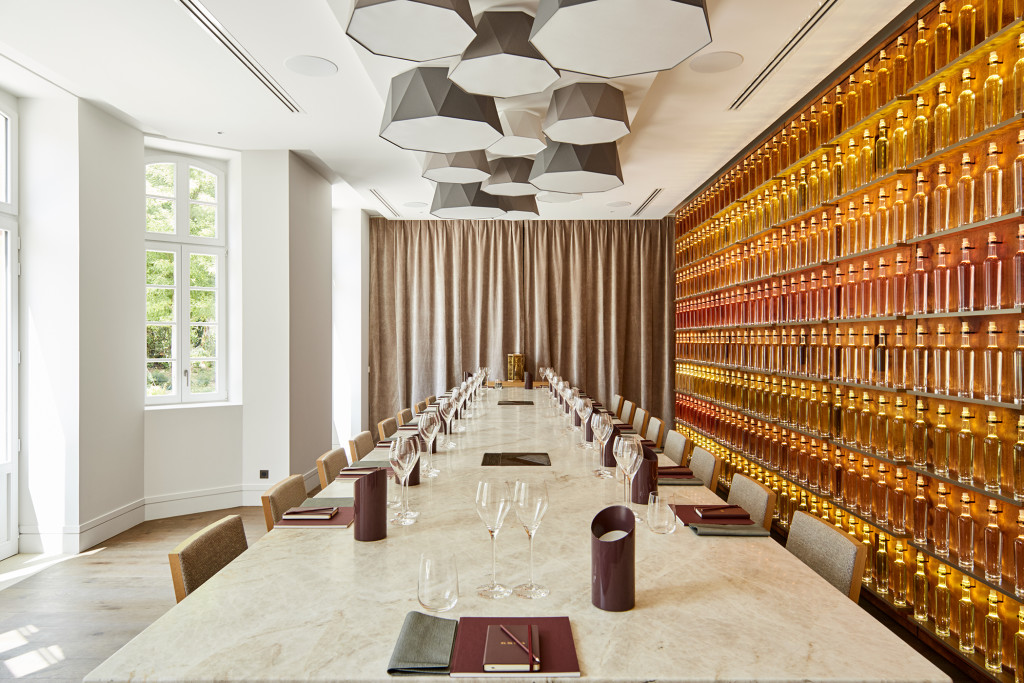 About IRCAM
IRCAM (Institute for Acoustical and Musical Research and Coordination) is one of the biggest government-funded research centers in the world today. It is dedicated to musical creation and to scientific research. A unique place where artistic perspective and scientific and technical innovations converge, the Institute is directed by Frank Madlener and employs more than 1060 employees. IRCAM expresses its three main axes – creation, research, transmission – during a Parisian season, several French tours and two annual events: ManiFeste, combining an international festival and a multidisciplinary academy, and the 'Vertigo' forum, showcasing the technical mutations and their sensitive effects on artistical creation. Founded by Pierre Boulez, IRCAM is associated to the Centre Pompidou under the supervision of the French Culture Ministry. STMS (Sciences et Technologies de la Musique et du Son) is a laboratory founded in 1995 and hosted in the IRCAM premises, association of CNRS, Sorbonne Université, Ministère de la Culture, and IRCAM Institute.
About AW²
AW² is an international architecture and design studio based in Paris. Reda Amalou graduated from the University of East London and founded the agency in 1997. Stéphanie Ledoux, a graduate from the Ecole Spéciale d'Architecture in Paris, joined AW² in 2000 and became a partner in 2003. The two partners have led the studio in tandem ever since and play an active role in the architectural design of each project. With projects in 40 different countries, the agency has an international reputation for quality high-end design. AW² has received several awards over the years including the MIPIM Best Hotel Award for the Six Senses Con Dao resort and three nominations for the AFEX Grand Prize in French Overseas Architecture for Six Senses Con Dao, the Lycée Français in Amman and Àni Private Resort & Art Academy in Sri Lanka.
About the House of Krug
Krug has always lived up to its reputation as the first and still unique Champagne House to create only prestige Champagnes every year since its foundation. The House was established in Reims in 1843, by Joseph Krug, a visionary non-conformist with an uncompromising philosophy. Having understood that the true essence of Champagne is pleasure itself, his dream was to craft the very best Champagne he could offer every single year, regardless of annual climate variations. Paying close attention to the vineyard's character, respecting the individuality of each plot and its wine, as well as building an extensive library of reserve wines from many different years allowed Joseph Krug to fulfil his dream. With a very original approach to Champagne making, he decided to go beyond the notion of vintage to create the fullest expression of Champagne, every year. Thus, he founded a House in which all Champagnes are of the same level of distinction. Six generations of the Krug family have perpetuated this dream, enriching the founder's vision and savoir faire.
About Amadeus
Amadeus develops, manufactures and sells a wide range of high-end sound reinforcement loudspeakers, studio monitors and various signal processing interfaces that combine its own custom innovative technology with stylish design, for the professional audio industry. Created in 1992 from the collaboration between the French designer Bernard Byk and the scientist and musician Michel Deluc, the Amadeus brand has grown to become a leading supplier of high-end audio solutions and services for theaters, opera houses, museums, recording studios, research centers and touring concert sound rental operations. All development and product manufacturing is centralized in Amadeus headquarters in France, with field offices and authorized distributors located in Europe, Asia and UAE.
For more information, please contact Amadeus: info@amadeuslab.com, or visit: http://amadeuslab.com
Amadeus and HOLOPHONIX are registered trademarks of Amadeus France. All rights reserved. All other registered trademarks are the property of their respective owners.
Alcohol abuse is dangerous for your health, please consume in moderation.