New Dolby Atmos mix room features Focal Trio11 Be for LCR and Solo6 ST6 for the surrounds and height speakers along with Sub12 subwoofers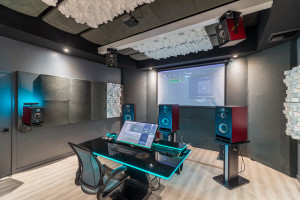 Focal has announced the first all-Focal Dolby Atmos® mix room in Las Vegas, Nevada, at the famed Studio DMI headquarters. The new 7.1.4 'Studio D' design features three of Focal's flagship Trio11 Be pro monitors for LCR and eight of the company's new Solo6 ST6 for the surrounds and height speakers. Two Focal Sub12 subwoofers handle LFE and bass management.
"A Focal system is great because it is a system that I trust and am comfortable with," says Studio DMI Founder and world-renowned mixing and mastering engineer Luca Pretolesi. "It is an extension of my ears, allowing me to achieve a level of accuracy and precision in my sound stage that is unparalleled." Pretolesi recently mixed Drake's "Honestly, Nevermind" album at Studio DMI on their Focal Trio11 monitors. While engineer Robert Guzman mixed and mastered the new Skrillex album "Quest For Fire" in Dolby Atmos in the new Studio D.
Read More »