Spectrasonics Release New Sounds for the Bob Moog Tribute Library from Sound Designer Eric Persing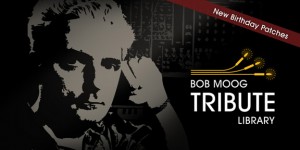 To celebrate the anniversary of Bob Moog's 78th birthday, Spectrasonics have released 78 brand new Omnisphere patches for the Bob Moog Tribute Library! With the addition of the new 'birthday' patches created by Producer Eric Persing, the library now features over 800 stunning sounds for Omnisphere, the company's flagship synthesizer.
The new patches are a continuation of the tribute to honor the legacy of synthesizer pioneer Dr. Robert Moog and support the ongoing work of the Bob Moog Foundation. In 2011 Spectrasonics produced the Tribute library with the generosity and creative talents of many renowned synthesizer artists, and has been a huge success in benefiting the Foundation allowing them to expand their educational outreach programs. 100% of the proceeds from the "Bob Moog Tribute Library" go to benefit the Bob Moog Foundation.
Read More »