New 2-channel mic preamp version based on SPL's flagship Crescendo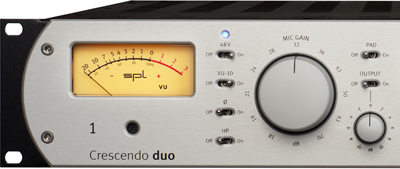 SPL of Germany has announced the new 'Crescendo duo' mic pre that extends SPL's 120V technology microphone preamplifier portfolio with a two-channel version of the SPL Crescendo. The new product is set to ship worldwide April 14, 2020, and is distributed by Focal-Naim America in the US and Canada, it retails for $2,499 USD.
Crescendo duo excels with the same outstanding sonic and technical features as the flagship of the product line – Crescendo, an 8-channel mic pre, released in September 2018. It is nearly impossible to overdrive this preamplifier. It excels with absolute signal fidelity and clarity and lets microphones appear in a whole new light – they have never been amplified like this before.
Read More »

The "Mercury" stereo DAC fulfills the highest demands in Mastering both technologically and tonally, it's the first mastering DAC designed with SPL's 120V rail technology
SPL of Germany is now shipping their new "Mercury" Mastering DA Converter. Mercury is a stereo digital to analog converter that fulfills the highest demands both technologically and tonally. It is the first Mastering DA converter designed in 120V rail technology. The new SPL DAC is distributed by Focal-Naim America in the US and Canada, is available now, and retails for $2,999.00 USD.
Read More »