From LA to Dubai, artists around the world use MixerFace to reach their fans
As the music world stopped touring, musicians started streaming, and CEntrance, makers of the portable audio interface called MixerFace, found itself helping artists all over the globe to stream online. A great match for major online streaming platforms, such as Instagram, Facebook, and YouTube, MixerFace upgrades the sound quality of smartphones and tablets based on iOS and Android. Using either built-in XY microphones or full-on home studio setups, MixerFace connects artists to their fans, with stunning audio quality.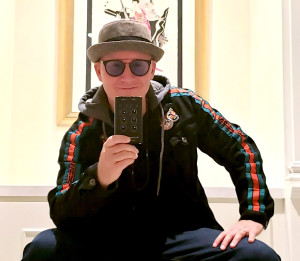 When Quincy Jones called guitarist Jake Morelli (Ed Sheeran, Bruno Mars, The Roots) for a 3-month R&B gig in Dubai, Morelli (IG – @JMotone) couldn't have anticipated getting stuck there in the middle of the residency. The club got closed and air traffic disappeared, so Morelli couldn't return home to his family. Fortunately, he had the MixerFace with him and has been recording, communicating, and live streaming with it every day. "While quarantined in Dubai," said Morelli, "I worked on several online collaborations—because an artist must create art, even under the most challenging circumstances.  I've done projects remotely with drummer Daru Jones, eclectic UK artist Ivy Channel, bass pioneer Jamaaladeen Tacuma, and vocalist Rogelio Douglas Jr." "I really cannot say enough great things about this little device" adds Morelli, "except that my guitar and bass have never sounded better! There is some serious mojo going on here. And if you plug in the CEntrance Pivot Mics, the exquisite detail that is picked up from vocals, or an entire band are simply astounding."
See YouTube video of one collaboration: https://tinyurl.com/Jake-Morelli
Read More »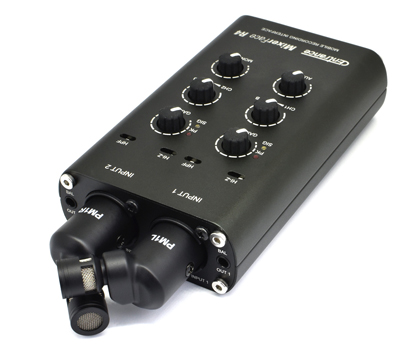 MixerFace R4B is the high-end recording solution for Mobile Broadcasting
CEntrance announced that their professional field recording solution, the MixerFace R4B, is now shipping. The acclaimed mobile recording interface comes with a pair of XY stereo microphones, PivotMics PM1, and a built-in 24-bit SD card recorder, creating a completely stand-alone, high-end recording device. The new MixerFace R4B retains all the features of parent MixerFace models, including a rechargeable battery, sturdy metal housing, pristine broadcast-quality audio, and a tactile user interface, all of which combine to create the perfect mobile solution for remote broadcasting or news gathering, podcasting, and interviews.
Read More »
The new handheld recording interface is designed for Podcasting, Voiceover, and Games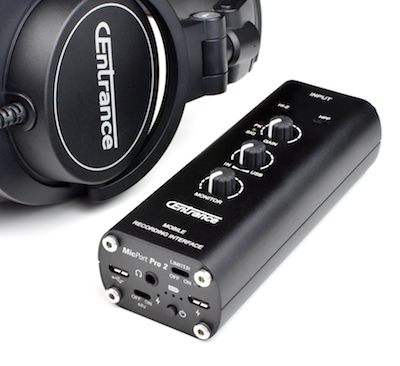 At the Podcast Movement tradeshow, CEntrance will demo new ways of creating professional audio content for podcasting, voiceover, and games, with the new MicPort Pro 2 mobile recording interface.
MicPort Pro 2 is a portable professional recording interface for your laptop, tablet, or smartphone. The new model improves on the highly successful MicPort Pro, which has been a staple of voiceover artists and broadcast journalists for years. The new model includes CEntrance's Jasmine™ Mic Preamp, which features lower noise and higher gain, adds an internal rechargeable battery to allow recording with phones and tablets, and features a standard camera mount. An ideal way to connect any professional microphone to a tablet or cell phone, MicPort Pro will be invaluable for content creation on-the-go.
Read More »