From LA to Dubai, artists around the world use MixerFace to reach their fans
As the music world stopped touring, musicians started streaming, and CEntrance, makers of the portable audio interface called MixerFace, found itself helping artists all over the globe to stream online. A great match for major online streaming platforms, such as Instagram, Facebook, and YouTube, MixerFace upgrades the sound quality of smartphones and tablets based on iOS and Android. Using either built-in XY microphones or full-on home studio setups, MixerFace connects artists to their fans, with stunning audio quality.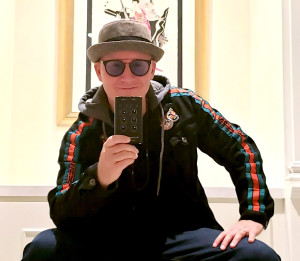 When Quincy Jones called guitarist Jake Morelli (Ed Sheeran, Bruno Mars, The Roots) for a 3-month R&B gig in Dubai, Morelli (IG – @JMotone) couldn't have anticipated getting stuck there in the middle of the residency. The club got closed and air traffic disappeared, so Morelli couldn't return home to his family. Fortunately, he had the MixerFace with him and has been recording, communicating, and live streaming with it every day. "While quarantined in Dubai," said Morelli, "I worked on several online collaborations—because an artist must create art, even under the most challenging circumstances.  I've done projects remotely with drummer Daru Jones, eclectic UK artist Ivy Channel, bass pioneer Jamaaladeen Tacuma, and vocalist Rogelio Douglas Jr." "I really cannot say enough great things about this little device" adds Morelli, "except that my guitar and bass have never sounded better! There is some serious mojo going on here. And if you plug in the CEntrance Pivot Mics, the exquisite detail that is picked up from vocals, or an entire band are simply astounding."
See YouTube video of one collaboration: https://tinyurl.com/Jake-Morelli
Read More »
Adam Young of "Owl City" Mixes on Focal Monitors
New chart-topping artist chooses Focal Twin6 Be monitors on breakout album 'Ocean Eyes'
With a growing fan-base and a world tour that continues throughout 2010, Adam Young, the creative force behind the band "Owl City," is taking off. His first independent release in 2008, 'Maybe I'm Dreaming,' received much praise and made Young into a phenomenon, with over 16 million profile views and over 80 million plays on MySpace, all stemming from posting a few songs from the year before.
That's led to Owl City's newest CD – 'Ocean Eyes' – released in 2009 by Universal Republic Records. The album has sold over 1 million copies in the U.S. alone, while the first single "Fireflies" hit #1 in 23 countries. During the making of the 'Ocean Eyes' album Young discovered Focal Twin6 Be monitors, then got himself a pair. "I absolutely love the Focals. I had mixed with other brands over the years, but it was always a bit deceiving. Other monitors seemed somewhat overly polished, bass heavy and even 'clubby.' The Focal Twin 6s are so transparent, but still easy to listen to and work with: they really help my mixes translate to anything I play them back on," states Young.
Read More »
Guitar Hero' Steve Ouimette Shreds Riffs with FOCAL Monitors
Possibly the Most Heard and 'Studied' Guitarist Today Creates Blistering Guitar Solos for "Guitar Hero" Video Game
At last count Guitar Hero games sold over $800-million around the world in the various flavors up to the latest "Guitar Hero: World Tour." And when players try to match many of the game's blistering guitar solos note-for-note, they are actually copying true life 'guitar hero' Steve Ouimette who crafts each solo in his Scottsdale, Arizona recording studio. Recently Ouimette upgraded his studio with FOCAL Twin6 Be monitors, and loves the new sound he gets when recording, monitoring, and mixing.
"I needed self powered monitors and wanted a set that didn't require a subwoofer, a monitor that had a natural top to bottom, but no hyped frequencies. Mercenary Audio suggested I try out the FOCAL Twin6 Be monitors to see if I liked them. They said they'd take them back if they didn't suit my needs, but it's been over a year they're never getting them back!" said Ouimette with a laugh.
Read More »